The coronavirus pandemic is having a disproportionate impact on working women.
Most of the world's precarious and informal jobs are held by women, a situation that exacerbates their vulnerability in times of crisis.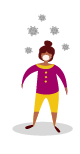 Women represent more than half of the world's service workers. They work in industries and sectors without protection, such as paid family leave and paid sick leave, and in many cases, without appropriate health and safety measures.
But, by being part of a union, women are getting a better deal at work.
This 8th of March, on International Women's Day, at UNI Global Union we are demanding essential rights for essential women workers.
Women's rights are essential rights.